BACKGROUND
Founded in 2013 as freelance media arts company, Creative Fields represents my 18 year work history encompassing a wide background in production areas such as motion graphics, 2D and 3D animation, visual effects, design, broadcast television, film, web and print. Since becoming a freelance contractor I have worked with a number of production companies in Calgary, and have had great opportunities working directly with client driven projects. Since I am well connected throughout the video production industry in Calgary and in Western Canada, I can readily access additional production services to meet any project requirements. I recently completed contract work for Pyramid Productions in 2015 and the NFB in 2014.
Project partners and clients include The National Film Board, Corkscrew Media, Deluxe Design Group, Freshwater Creative, Arcade Video, Noddis Water Security, Euroshield, Canon Canada Inc., Arcade Video, and Pangean Pictures. Recent projects include work provided for TEDx Calgary, City of Calgary, The University of Calgary. Projects associated with previous employment related clients include Y & R, Smart Technologies, Alberta Ford, Calgary Stampeders, Coke, Enmax, AHS, Alberta Education, The University of Calgary, as well as some major oil & gas companies. Major projects have included roles as animator, art director, designer and visual effects supervisor as well as working with producers and other suppliers to achieve collaborative goals. 
What Clients Are Saying:
Thank you for the excellent work on the production of our digital installation video guides for EuroSlate/EuroShake and EuroLite Slate and EuroLite Shake. They turned out much better than we hoped for in terms of the quality of the animation and the attention to detail and you maintained our schedule for delivery on time and on budget. I have had several companies ask me who did the videos as they were very impressed and possibly will require these types of services in the future. I have and will continue to recommend Creative Fields for anyone requiring this type of work.
-Brian Eberle, Euroshield Roofing

Creative Fields took our very complex business model and graphically interpreted it for everyone to understand.
-Rick Siddon, Noddis Water Security
It was a pleasure to work with Greg on an opening animation for a television and internet marketing campaign for BURNCO Landscapes . I provided Greg with a clear idea of what I wanted and he was quick to respond with his initial renderings. We effortlessly made a couple of adjustments and Greg delivered a creative opening animation on time and on budget. I will definitely work with Greg on future animations.
-Darold Black, Black Media Works
Greg has been wonderful to work with. He works quickly, to spec and scope. He's very amenable to last minute changes and I've always enjoyed working with him.
-Stacey Quick, Corkscrew Media
Greg Marshall brought his extensive video production and editing knowledge into my photojournalism program, greatly enhancing the overall learning experience for our students as they produced video stories in the documentary tradition. He is personable, and an incredible knowledge base in the world of journalistic, and corporate video storytelling.
-Kevin Udahl, Photojournalism Instructor, Journalism School of Information & Communications Technology
Greg from Creative Fields was exceptional to work with. Especially given that he worked remotely and we exchanged files via a cloud. Working online with someone presents challenges but Greg was fast at replying to emails and asked all the right questions. It was a great experience working with him.
-Scott Portingale, Filmmaker and Animator – Infinitude project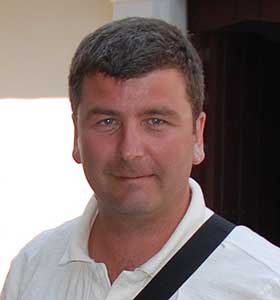 Greg Marshall
CG Generalist - Media Artist
Greg has an extensive 18 year history in the motion graphic industry working in the broadcast, corporate and commercial and independent sectors. He works as a freelance motion graphic artist in animation, visual effects, 3d visualization, art direction and graphic design, and video editing in a post-production generalist capacity. Wearing different hats and often at once he has work as an art director, graphic designer and visual effects supervisor and 3d visualizer. He gained his overall motion graphic experience working for V Strategies, Pyramid Productions, and A-Channel Calgary for Craig Broadcast. From 2013 to 2015 he taught video production to 2nd year Photojournalism students at SAIT in the School of Information Communications and Technology (ICT) as well as design and Adobe courses in the Continuing Education Department. Since 2013 he continues to serves on EMMedia's Board of Directors, also as Treasurer since 2014. In 1994, he graduated from with a 4 year visual arts diploma ACAD where his also currently finishing his Bachelors Degree in Fine Arts. In 1994 he was one of a group of 16 graduates who founded the Untitled Art Society in Calgary. He is currently working part-time to complete by the end of 2016 a partly animated documentary with financial support from the Alberta Foundation for the Arts. He is also working on other media art projects with recent and upcoming exhibitions and screenings in Philadelphia, Denver, Victoria and Calgary.